Birthday Party Package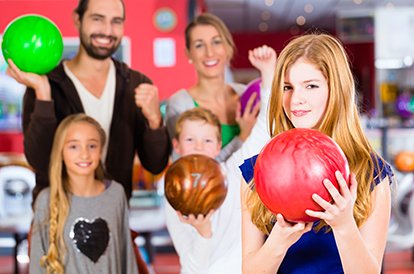 Ages: Birthday party specials are for children 16 & under (including guests)
Cost: $12.75 per child (all taxes included)
Birthday Party Packages start as of September 9, 2017 and finish April 29, 2018!
Call us now to find out our summer birthday rates! 
A $25.00 CASH deposit is required to hold your reservation
Your party must have at least 5 children
There will be a minimum amount of 4 children per lane
You must have at least 2 parents to chaperone every 5 kids
Payment is on the day of your party (Cash Only!)
You receive a 2 hour package
This will include:
Bowling
Opening presents
Eating
Times
Saturdays at 1 :00 pm. & 3:30 pm.
Sundays at 1 :30 pm. & 4:00 pm.
The 1 :00 parties must be done and off the lanes by 3:00 (1 :30 parties by 3:30).
The 3:30 parties must be done and off the lanes by 5:30 (4:00 parties by 6:00).
This is so we can clean up for the next reservation coming in after you.
What the kids get
Bowling
Bowling shoes included
1 pitcher of pop for every 5 children
Chips
Cataract Bowl Glow Bracelet (Yellow, White, Green or Pink available)
The birthday child receives a birthday party bowling pin that can be signed by all the guests, a coupon for 3 free games of bowling (to be used at a later date), plus a Cataract Bowl Fun Centre Tee Shirt.
 You can bring in your own food or order food in.
Call and reserve your child's party today. 905-354-9733